Transportation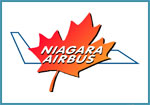 If you need transfer to Niagara Falls, you simply need to go to www.niagaraairbus.com , we have an agreement with Niagara Airbus for discounted rate. The discount code is 085 ; use it at the beginning of the booking page, you will need to insert this code where you see Conference/Promo code - and your discount will automatically be calculated as long as the code is entered.
There will be a shuttle discount round trip fare for Toronto, Buffalo International round trip. There will also be a 20% discount on all private exclusive services for all Airports, including, Hamilton, Billy Bishop Toronto Island, Toronto Pearson, Buffalo, and Niagara Falls New York International Airports.
You can book online and manage your own bookings with this code, and you can also call reservations line at +1 (905) 374-8111 should you have any inquires, or questions regarding bookings, or you can email any inquiries to airsales@niagaraairbus.com as well.
The code is valid from August 18th to September 6th, 2013 to allow ample time to travel before and after the event.
Further, there will be a 15% discount for our scheduled tours should you have free time and want to explore Niagara. This can be booked with the same discount code.
For more information, please click here